Recently, Afalight Testing Laboratory won the accreditation certificate of China National Accreditation Service for Conformity Assessment (CNAS)!
Certificate registration number: CNAS L 15469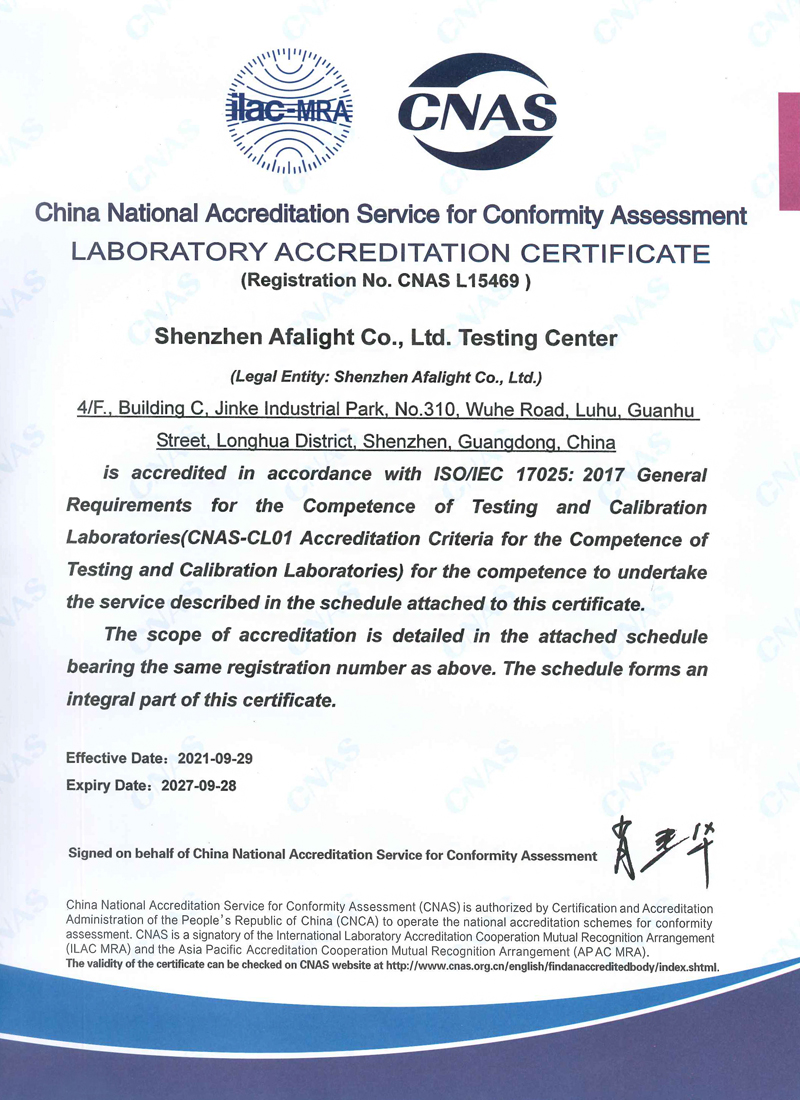 What is CNAS
CNAS, the China National Accreditation Service for Conformity Assessment, is a national accreditation body approved and authorized by the National Certification and Accreditation Administration.
Responsible for the unified accreditation of certification bodies, laboratories, inspection agencies and other related institutions. It is the only and most authoritative laboratory assessment agency in China.
The testing organization that has passed the CNAS accreditation system indicates that the laboratory has the technical ability to carry out testing services in accordance with the relevant international accreditation standards, and can
International Accreditation Forum (IAF), International Laboratory Accreditation Cooperation Organization (ILAC), China CNAS Certification and Regional Organization, Pacific Accreditation Cooperation Organization (PAC),
Mutual recognition in the Asia-Pacific Laboratory Accreditation Cooperation (APLAC).
International certification authority endorsement
Afalight Testing Laboratory has passed CNAS accredited testing capabilities covering the two major directions of electronic components and wires and cables, involving national standards, IEC, etc.
There are more than 10 standards at all levels, including inspection items such as insulation resistance measurement, cable bending, electrical strength, and salt spray testing.